Tribute
Rea Redifer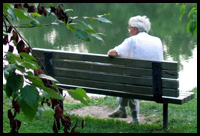 By Mark Dance - I suppose my thoughts reflecting upon Rea may be personal but I am happy to share a few.
Twenty years ago, when I endeavored to become an artist, I realized that I was entering into a lonely life where friends were few and far between simply because we work in exile. As a transplanted southerner new to the Chadds Ford area, I did not know many people outside of my wife's family. Unremarkable circumstances brought Rea to my attention. Read More
Essays
The Kent House
By Mark Dance - It is said that a thing can be defined by it's environment. Rockwell Kent's house on Monhegan Island certainly proves this observation. It does so by withstanding nearly one hundred years of harsh New England winters and everything that a fierce sea can throw at it. With his own hands, Rockwell Kent designed and built the little house for his mother. He anchored it onto Monhegan's shattered rocks just above the high tide line and it has endured to become the summer home and studio of Jamie Wyeth. Read More
Past Shows
The Brandywine Murals
Theme Costume Ball - On October 22, 2005, the courtyard of the museum will be transformed into the deck of a pirate ship that has sailed the high seas complete with mast, crows nest and cannons.
Mark Dance has created a series of large murals that decorate the courtyard that includes over seventy feet of Caribbean seascape. Read More
Twin Lakes Brewing Company
Frolic Weymouth's Original Art Studio - On October 4, 2006, the artist's presented works appeared in his forst solo exhibition at the site of Frolic Weymouth's first art studio- now a part of the Delaware Valley's most popular hand-crafted microbrewery. Read More
Winterthur Point to Point Races
"Short Story"
A painted Rocking Horse by Mark Dance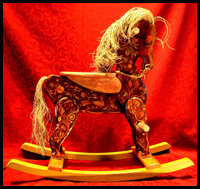 Winterthur Point to Point Races has asked a group of Brandywine Valley artists to donate their skills by decorating a wooden rocking horse. A silent auction will take place leading up to and ending on race day, Sunday May 3rd 2009. All proceeds are to benefit Winterthur's Point to Point.
Mark Dance has painted and decorated "Short Story" in early American colors with a motif of floral, ivy and animals somewhat similar to the Pennsylvania Dutch style. The rocking horse has a custom mane made of hemp twine and his reins are made of braided leather lace with aged bone beads. Read More